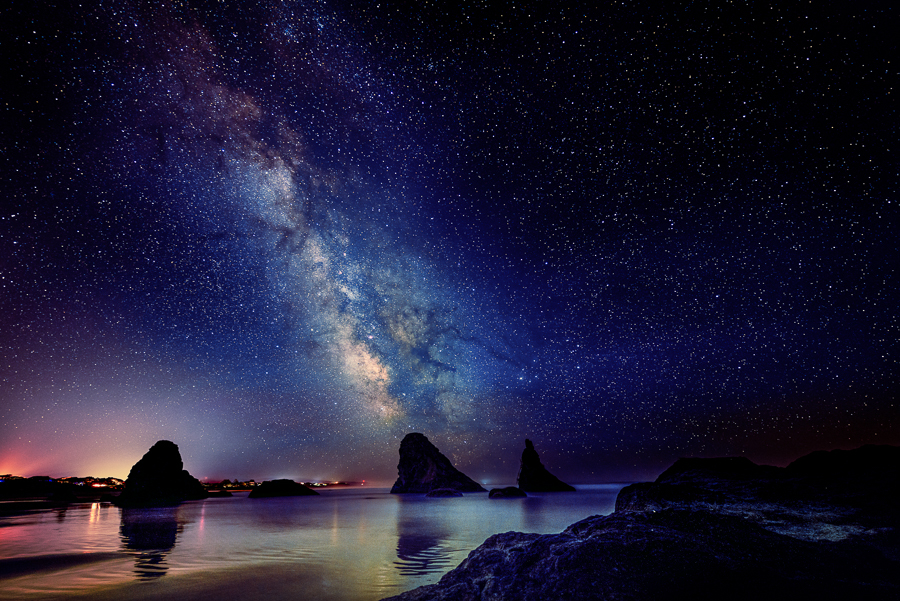 We switched on our headlamps and descended the steep coastal cliff at Oregon's Face Rock Beach.
The time 2:30am. The parking lot empty. Night air 45 degrees with little wind. Our goal: image the Milky Way Galaxy rising over the ocean and offshore Sea Stacks.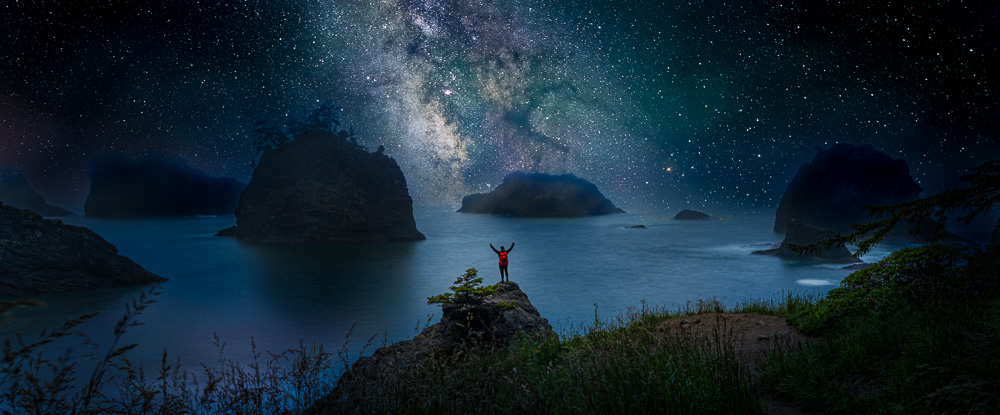 The flashlight's narrow beam of light illuminated wooden stairs slippery from sea spray, mud and algae. We moved slowly and made sure the rubber soles of our hiking boots made even contact with each step. Holding the side rails helped to keep balance with 30 pounds of camera gear on our backs. My wife Lise and I had planned this moment to be the highlight of our photography vacation. I did not want a mis-step! Outside the flashlight's beam loomed blackness and void. The unknown surf. An unfamiliar route. Did the previous high tide create tidal rivers we could not cross? Was our pre-planned spot underwater? Or, as we hoped, just dried from the outgoing tide? Safely down sixty stairs, we stepped out onto the hard packed sand, and walked a mile in the darkness, navigating rocks, logs and some unexpected drop-offs.
The sound of the ocean's breakers grew louder. As we approached the surf line, Bandon's iconic sea stacks: "Face Rock", "Wizards Hat" and others revealed themselves. We found the location we had scouted 12-hours earlier and it was dry! The conditions were perfect–little wind and a horizon to horizon clear sky!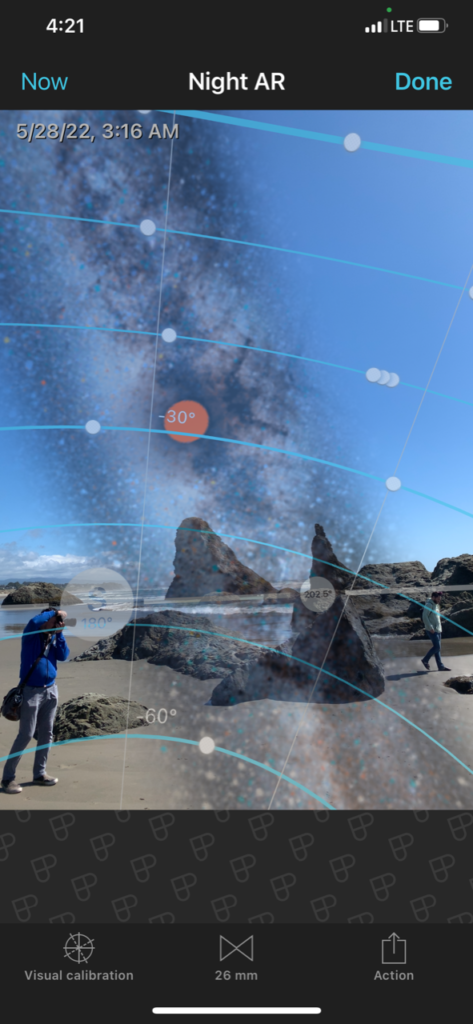 My heart raced as I looked up. Above us was a sight few have seen so clearly!
The Milky Way Galaxy is a magical glow of light formed by of millions of stars tightly banded together. It is the spiral galaxy our solar system resides within. From earth's location (an outer band far from its center pointe, we look inward during summer to see its tremendous galactic center.
Our eyes and brain slowly registered the white, fuzzy pathway that the ancient Greek's named "milky". We knew our camera would be able to resolve the stars that
Galleleo saw with his telescope– thousands of yellow, red, blue and white clusters of stars as well as pink nebula split by spiderwebs of space dust.
We set up our tripod, focused carefully and tapped the shutter every 15 seconds to take series of shots that would later be "stacked together" while editing to gain every detail possible. With this technique, our camera was acting as a telescope as powerful as those in modern observatories! When we returned home, we would be able to view our planet's galaxy with colorful vibrance and high resolution!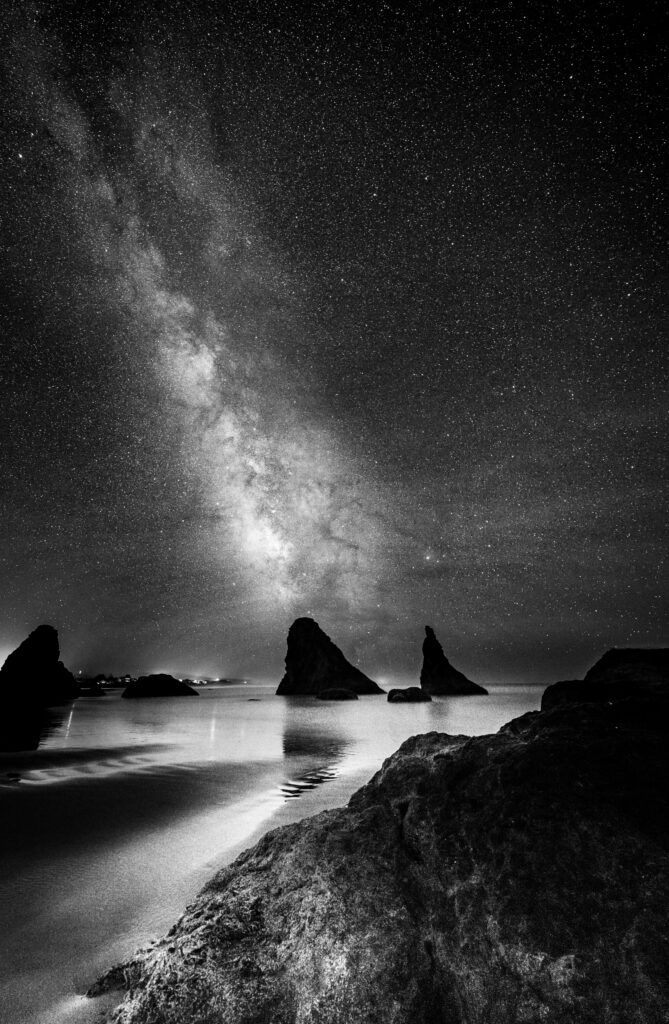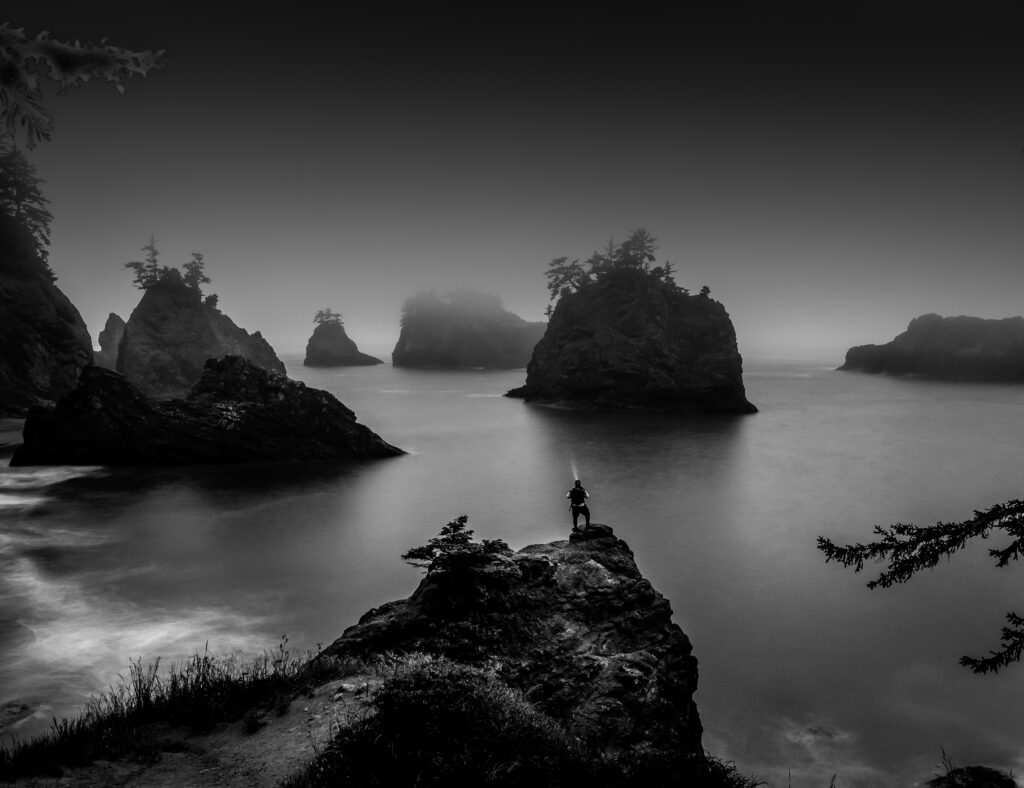 Bob Gibson, a landscape and wildlife photographer and photography teacher, lives in Jupiter, Florida. For more information, e-mail rjg@rjgibson.com or visit www.photomastersworkshops.com