Hiking to the base of a 250 foot waterfall requires climbing up 250 feet of muddy terrain afterward.   As obvious a fact as this is, it did not cross my mind when I packed two camera bodies and a whole satchel full of lenses.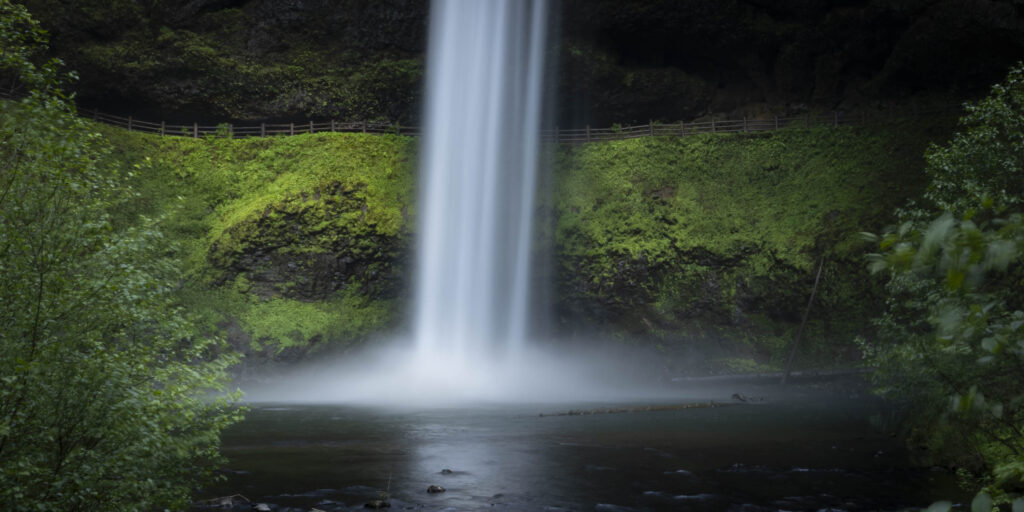 Silver Falls State Park has been called the crown jewel of Oregon's many stunning parks.   It's only two hours south of Portland near the charming town of Silverton surrounded by family wineries that produce award-winning Pinot Noir. 
Silver Falls State Park caters to the beginner or average hiker like me.  The park consists of 9,000 acres of rain forest dropping down to a rushing river, with two access points: A main entrance at the south end of the gorge with large parking areas, clean "facilities", a restaurant and store.  A smaller parking area at the north end of the park offers a less crowded access.
This "trail of ten falls" could be hiked in a day, but a serious waterfall photographer will want to make several early morning and late evening hikes to enjoy the best light.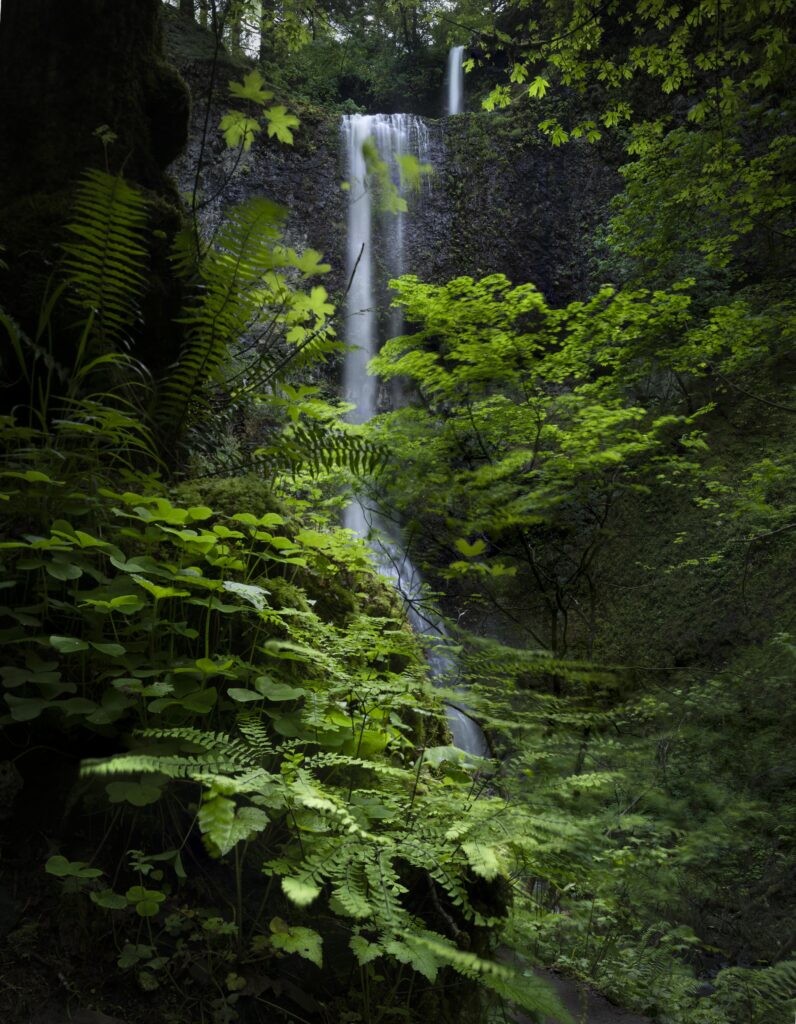 Tips for Photographers
Look for interesting foreground objects like flowers, ferns, or rivulets of rushing water to fill the bottom of your vertical frame. Spend time composing a dramatic shot by getting low and close to the water and to flora. Do this before you set up your tripod.
Set your camera to manual exposure mode and manual focus mode.
Set your shutter speed to between 1/30 of a second to 5 seconds for the pleasing "blurred water effect".
Set your aperture to its sweet spot, usually around f.11 or f.13.
Set your ISO to 100.
Add a neutral density filter to darken your scene to compensate for the long open shutter.
Focus 1/3 of the way into the frame (if you don't focus stack in Lightroom)
For the most professional shots, you will want to take 3 to 7 shots focused from front to back: The foreground flower, the midway rocks, the base of the falls, the wall halfway up the falls and the top of the falls. (You can find many You Tube videos showing how to stack these in Photoshop). This is the best way to create a fine art image that can be enlarged into a 36" or greater print.
Tips for Photographers with significant others
Divide the photography sessions into two mornings, and spend the afternoons toasting your efforts at one of the dozens of family run vineyards within a half hour's drive!