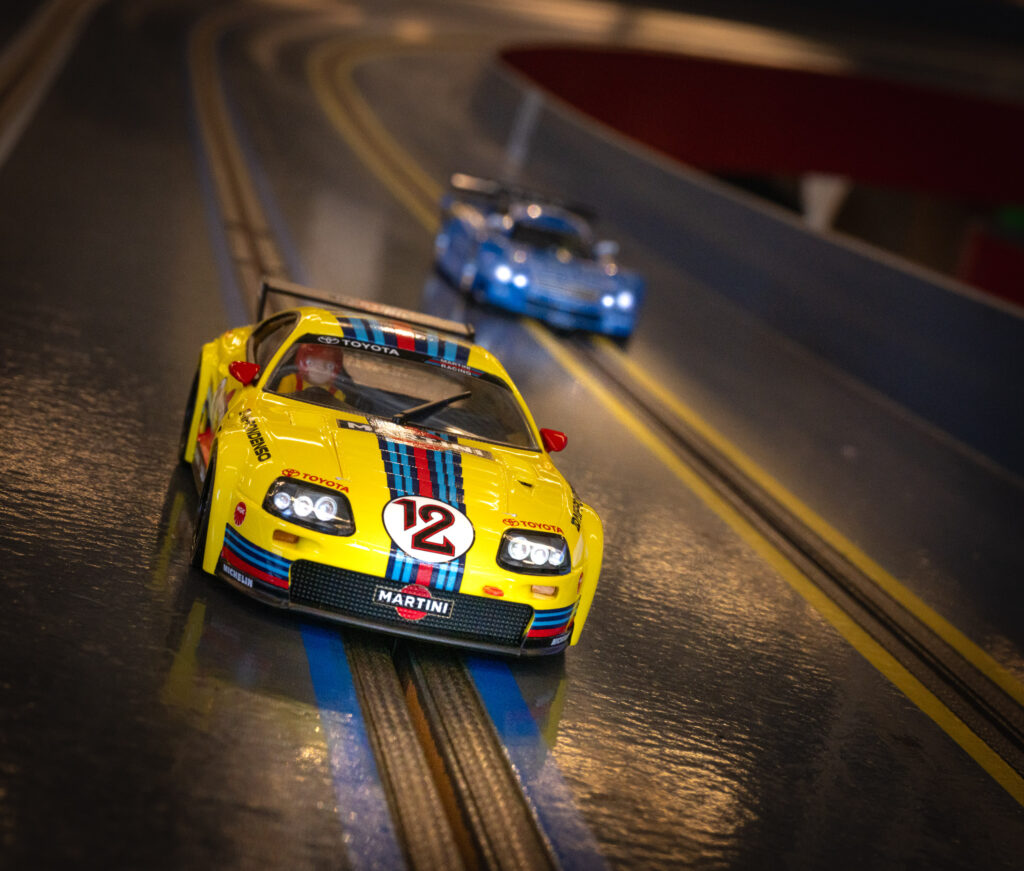 Rainy Day camera fun at the Slot Car Track. Step One: Place cars stationary on track in desired composition. Shoot. Step Two: For more dramatic shots enlist a driver or two and use a flash to capture motion!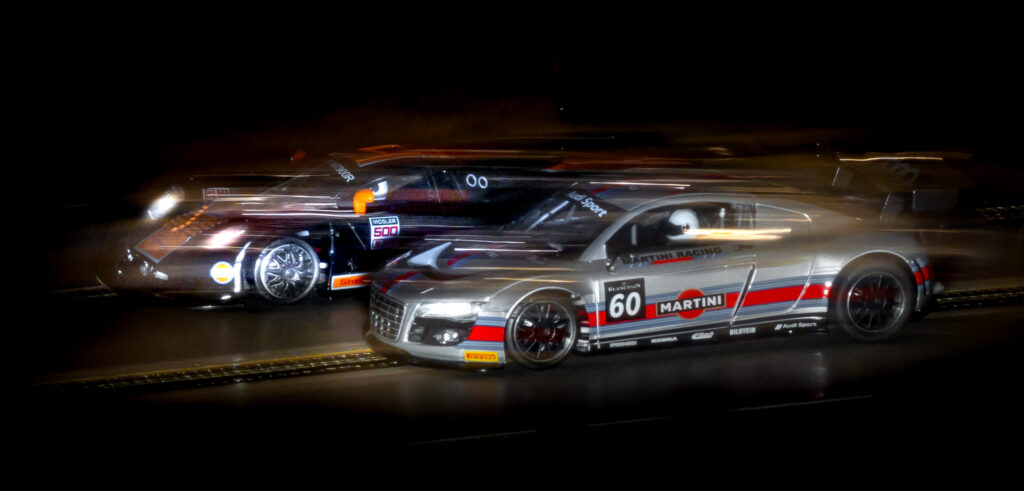 The Slot Car Craze of the 1960's captured the imagination of millions of youngsters. I was one of them. Three thousand "Slot Car Raceways" popped up in suburban shopping centers catering to Dads and their ( too young to drive) sons and daughters. Here, for a few magic hours on a rainy weekend, a kid could imagine he was Ken Miles, A.J. Foyt or Mario Andretti while "driving" a scale model candy apple Corvette, Shelby Cobra Mustang or Batmobile around an electrified track.
Fast forward, sixty years and just like Yogi Berra once said, "Its Deja Vu All over again!"
In America, slot car racing is making a comeback. (In Europe, it has always been popular) Today's hobby is just like the sixties, but the cars are way cooler, the electric motors much faster, and audience is peppered with those who grew up with Beatles music, Batman TV and Big Daddy Roth T-Shirts. Computer scoring systems time each lap and keep count. Just like at Sebring or Daytona, drivers race in stock and unlimited classes.
–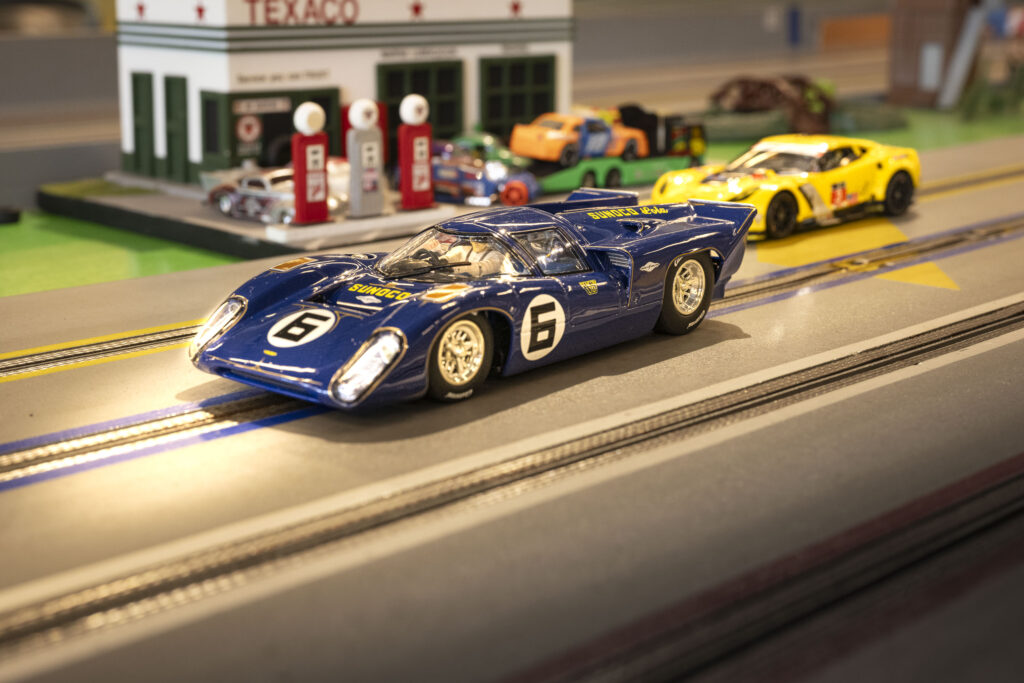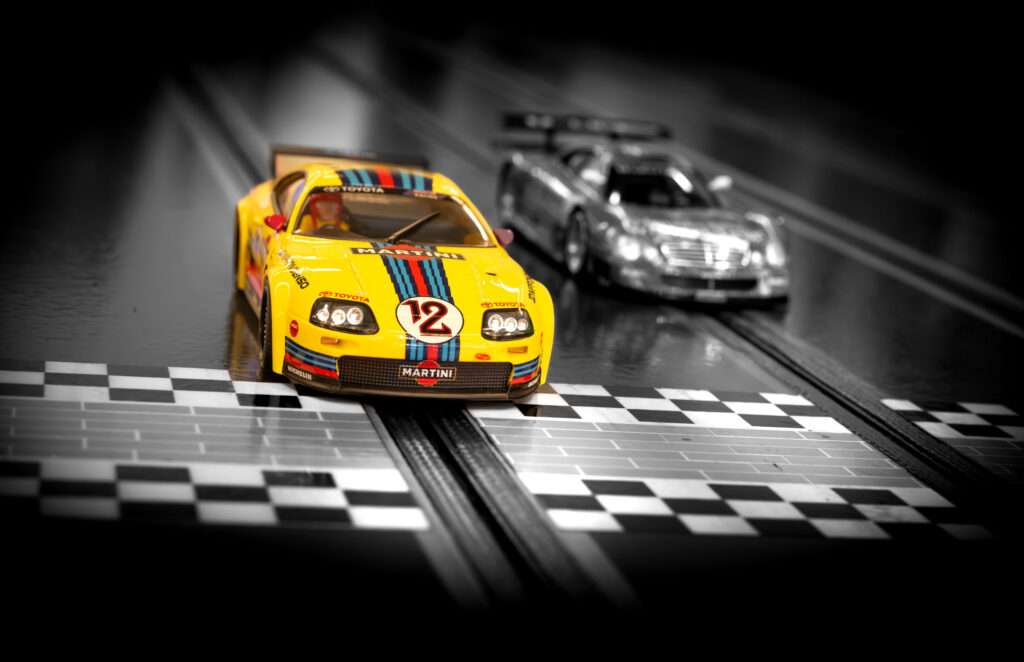 Here's how to photograph a racing slot car to make it look real:
Shoot RAW and in manual mode to control aperture, shutter speed and get a file large enough to edit successfully in Adobe Lightroom.
Choose a track location where you can shoot the car side on, and at tire height or below.
Use a lens in the range of 50mm to 85mm.
Open aperture to F8 to F5.6 to blur background but not car.
Set autofocus screen to pinpoint.
Set Shutter to 1/40 to 1 second to blur motion.
Place the car on the track where it will be when you shoot it.
Place your flash pointed at the car,(but not in the way so it gets run over–yes, I have made this obvious mistake)
Recruit a friend to race the car around the track–slowly–it is easiest to capture a slowly moving car and the effect works well.
Set your flash to REAR CURTAIN SYNC. (The shutter opens first, records a blurred moving car and then the flash goes off and freezes the car.
Have patience, it may take a dozen shots to get a good blur with cars in a strong composition. (This is the fun part! Enjoy!)
Edit the image in Adobe Lightroom. Use Contrast and Exposure Sliders to emphasize the blur. Place the radial filter mask over each headlight, increase exposure and highlights to "Light up the Headlights"
Darken the background to create night effect by choosing subject, then inverting subject. You can now darken the background as desired.
Bob Gibson is a landscape and wildlife photographer who teaches summer workshops in Alaska, Oregon, Wyoming and Ireland. During the winter months he teaches Wildlife and Waterscapes workshops at the Lighthouse ArtCenter in Tequesta, Florida. On rainy days he takes photos of model cars at the local slot car track! https://lighthousearts.org/our-classes/adult-classes/digital-arts/